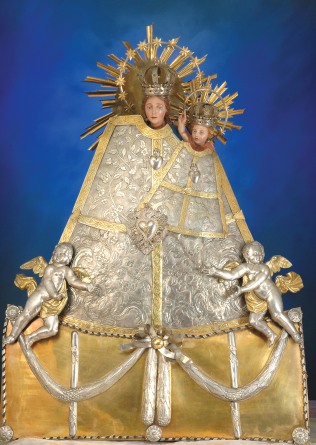 Máriagyűd is the oldest pilgrimage destination for the Veneration of Mary. It was missionary Archbishop Saint Bruno of Querfurt, who, at the end of the 10th century, began the conversion of the pagan population. In the 14th century, the parish churches of the area, one after the other, received the privilege to indulgences. After the Mohács calamity, the population of Gyűd became Reformed Christian. However, the church remains untouched by the Turks. Therefore, the building was first used for religious worship by Orthodox Serbs, and later by Hungarian Reformed Christians.
The revelations of the Virgin Mary by the church began at the end of the 17th century. On the intervention of the Franciscans of Siklós, once again, the church was used by Catholics. In the first third of the 18th century – especially during the 1737-38 plague epidemic – it became a significant pilgrimage destination. This was also the time when a Franciscan monastery was established in Gyűd, and the church was extended. As the miraculous healings continued, in 1805, Pope Pius VII delegated Máriagyűd the privilage of dispensing indulgences. In 1846, Diocesan Bishop János Szcitovszky, officially declared the locality a pilgrimage site. Pope Benedict XVI gave the shrine the Minor Basilica title in 2008.
The new devotional statue, made in 1713 (after the old one found shelter in Osijek during the Rákóczi War of Independence) is a unique treasure of the church, as is its 1990 organ built by József Biebert, an apprentice of the renowned Angster Organ Factory in Pécs.