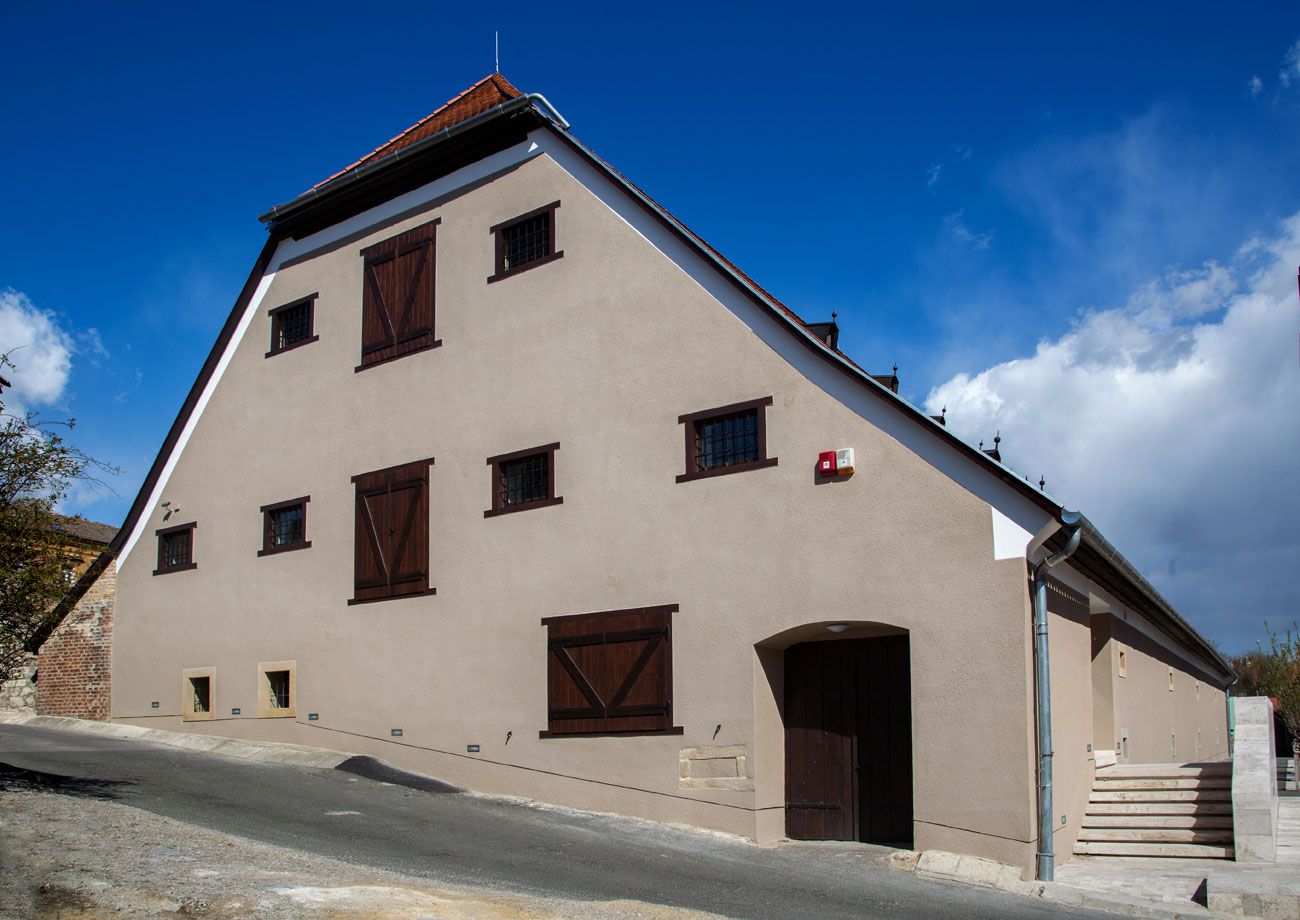 The building was erected by Bishop Ferenc Nesselrode at the beginning of the 1700s. The space above the multi-storey wine cellar is currently occupied by the Granary Visitor Information Centre, which is a tourist information point, as well as a venue for conferences, community events, exhibitions, art shows, and superior hospitality.
Since its opening in 2015, it has been welcoming visitors with a wide range of services, a conference and winemaking exhibition space, and events at the gate of the Bishopric of Pécs. The primary mission of the complex service centre, besides providing information to local residents, is the reception of domestic and international tourists, as well as raising their interest in the numerous treasures of the town.
The Visitor Centre also has a conference hall, capable of seating 200 people, and provides space for religious, scientific, and art-related programmes; a screening room and a gift shop operates on its visitors' level, too.
Known as the main cellar of the demesne, the 18th-century wine cellar, on the basement level, once formed part of the episcopal residency. The two-storey space underground – where visitors may also taste the contents of the original wine barrels – puts into a historical perspective the richness of one of the oldest wine producing regions of Hungary and the historic wine culture of the Diocese of Pécs.
The tunnel connecting the garden of the Episcopal Palace and the Granary begins here, the history of which probably dates back to the Middle Ages, but it played an even more outstanding role in the second half of the 20th century, under Hungarian state socialism. The western wing of the tunnel, used as a wine cellar, doubled as a secure path at the time when the entire episcopal residency and its gardens were installed with bugging devices. With a history spanning several centuries, the tunnel is a truly exceptional location to authentically demonstrate the dark and dangerous days of Communist religious persecutions.
Opening times 1 May - 30 September
Monday to Sunday: 9-17 h


Opening time 1 October – 30 April
Monday to Sunday: 9-17 h